Welcome to the official web site of the
S2 9.1 Meter North American One Design Class Association.
<![if !vml]>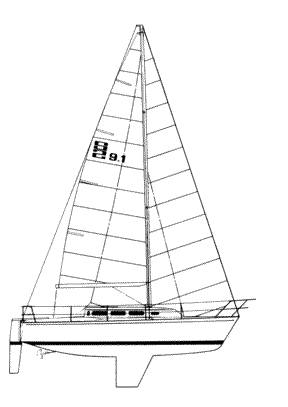 <![endif]>
The 9.1 Meter is a 30 ft. one design racer/cruiser sailboat manufactured from 1983-1987 by S2 Yachts in Holland, Michigan.
The mission of the S2 9.1 Meter Class Association is:
<![if !supportLists]>• <![endif]>to support and promote active one design racing of the S2 9.1 Meter
<![if !supportLists]>• <![endif]>to facilitate the sharing of information regarding the use of the S2 9.1 Meter for racing, day sailing and cruising
<![if !supportLists]>• <![endif]>to support the sailing interests of S2 9.1 Meter owners around the world
The S2 9.1 Meter Class Discussion Board is the official source for all information about the Class Association. Inside you will find everything you need to know about Class Rules, activities, racing and the boat, including tons of technical info.
The public is free to view and read the Discussion Board but the Class Association requires that users establish a user "profile" before posting any comments or questions. As a security measure to protect the information on this site and to prevent spamming of board members, all user profiles must be approved by the Class President before users can begin posting to the Discussion Board. Instructions for establishing a user profile can be found at the top of the main Discussion Board page. The approval process is typically very quick. You will receive an email reply regarding the status of your user profile. When you establish a profile, we ask that you provide as much information as possible about you and your boat and we encourage you to turn on the "automatic email notification" feature of your profile. This feature automatically sends you an email any time someone posts on the Discussion Board, enabling you to quickly and easily contribute to the sharing of information and the satisfaction of sailing an S2 9.1 Meter sailboat. Rest assured that the Class Association does not share your contact information with anyone – and, using the profile manager function, you have the option of hiding your information from public view.
We ask that all sailors of S2 9.1 Meter boats support the ongoing existence of this web site through the payment of annual membership dues. Please print the membership form and mail your dues today. It is available in both PDF and RTF format for your convenience.
Contact information for the Class Association Officers can be found inside on the Discussion Board. If you need technical assistance please send an email to:
<![if !vml]>

<![endif]>
The S2 9.1 Meter One Design Class Association is a member Class of US Sailing.
Last Updated: April 19, 2007